An Independent Research Boutique
Being a privately-held partnership, we are able to ensure our purpose remains aligned with our clients' best interests. Since our founding, we have remained in our original office building and pride ourselves on our long-term focus in everything we do.
Our founding partners began managing their first portfolios in the 1960s and had experienced many market cycles when founding the firm in 1983. This experience informed them that buying stocks, firstly, for the long-term and secondly, with a price discipline, tended to provide not only downside protection in short-term market fluctuations and significant upside opportunity when taking a long-term outlook of at least 3-5 years.
Our capabilities since our founding have expanded to include a broad geographic diversity in our strategies and vehicles that both U.S. and non-U.S. investors can access whether directly or through global banks and local financial advisors. But, we retain the original value investment philosophy instilled by our founders in every portfolio we manage today.
History shows that it doesn't pay to try to time the stock market, but there are times when risk levels have increased to a point where it is wise to have a safety net – like dividends.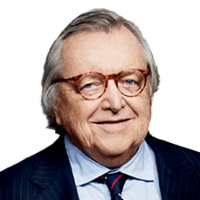 Jim Cullen
Chairman and CEO, Portfolio Manager
$22.9bn*
Assets Under Advisement
100%
Employee-Owned & Operated
*As at Mar 31, 2023